Chicken coops are to chickens as houses are to people. Although there are minimalists out there that like to keep their domiciles as Spartan as possible, most people like to surround themselves with all the comforts of home. I would like to introduce you to 3 of the best chicken coops I have found. One is a large chicken coop with a run. One is a medium coop w/o a run. The third is a coop for up to 8 chickens with a run option. Each of them has all the comforts that a chicken coop should. That Includes nesting boxes, proper vents, doors, and windows.
Each coop is described in great detail, so there should be little left to the imagination. If I missed anything relevant, I apologize. I did my best to make sure you are armed with all the details needed to select the coop that is right for you. They are all in different categories – highest priced to lowest. Or if you want to build your own chicken coop? Check this out.
They all have runs or optional runs.
1) All-In-One 6×12 Chicken Coop Plus Run (up to 20 chickens) Regular price $6,749.99 Sale price $5,999.99
2) OverEZ Medium Chicken Coop for up to 10 Chickens $1,535.94
3) Nestera Raised Chicken Coop (up to 8 chickens) Regular price $899.00
1) All-In-One 6×12 Chicken Coop Plus Run (up to 20 chickens) Regular price $6,749 Sale Price $5,999,99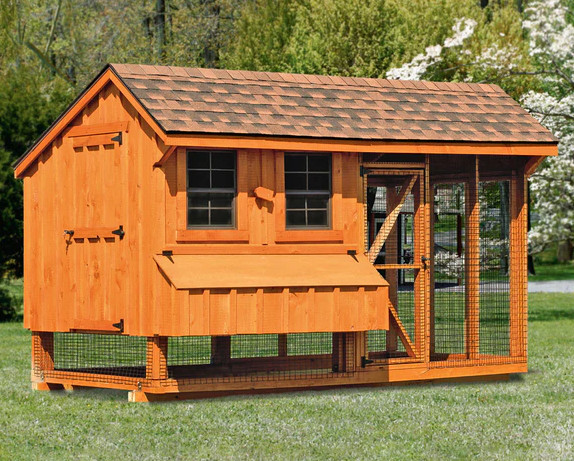 This coop comes fully assembled. It is a Quaker-style hen house with an attached run. The "all-in-one" design eliminates the need to build a run. There are so many customization options to list that I have only scratched the surface here. If you decide to purchase this incredibly well-made chicken coop you will find all of the options by clicking on the link. Don't worry — keep your credit card in your pocket. There's no cost to look.
Key Features
Room for 18 to 20 chickens
Six nesting boxes
Two windows, one vent slot, and two gable vents
Built-in run with a roof over the entire structure
Epoxy floor
This coop has many customization options including 3 types of siding, 3 types of roofing material, 20 finishes, and more.
Dimensions & Specifications
Overall coop and run dimensions: 8′-6″ high x 12′ long x 6′ deep (not including the nest box and roof overhang)
Coop access door: 4′-9″ high x 2′-6″ wide
Chicken door: 12″ high x 9.25″ wide
Run access door: 5′ high x 2′ wide
Total roosting space: 11-1/2′ (two 69″ long roosts)
Chicken ramp: 3′ long
Nesting boxes: Six, each approximately 1′ square
Total coop weight: 1300 lbs
Materials
There are three choices of siding for this chicken coop. Duratemp® is backed by a 50-year limited warranty and won't split or crack. It has a strong plywood veneer inner core and a tough hardboard face with the texture and appearance of natural, rough-sawn cedar.
Pine Board & Batten and Pine Tongue & Groove are alternate siding choices, also durable and attractive.
The pressure-treated plywood floor is 5/8" thick. Pressure treatment helps to prevent termites, rot, and fungal decay.
Finish Choices
There are 15 paint colors and 5 stain colors to choose from. Two colors are included with your purchase so that you can choose one color for the siding and another for the trim at no extra cost.
If you've chosen Duratemp siding for your coop, you'll need to choose a paint color; if you've chosen either Pine Tongue & Groove or Pine Board & Batten siding, you'll need to choose stain colors.
30-Day Money Back Guarantee!
If you aren't satisfied with your purchase, you may return your coop within thirty days of receipt for a full refund, less the cost of return shipping.
Shipping and Delivery
Each coop is made to order; please allow up to 8 weeks to receive your coop.
Standard delivery provides for the coop to be delivered to the end of your driveway. You will be responsible for moving it where you would like it. However, if your coop location is easy to get to (this will be completely at the driver's discretion), your driver can place your coop for a fee of $600.00.
Please note: we do not have a storefront and orders cannot be picked up from our location. We can only ship within the United States. Shipment of chicken coops is limited to the 48 contiguous states and not Alaska, Hawaii, Puerto Rico, and the other U.S. territories.
What Do I Think? If you want the best coop in your neighborhood, this is the coop. I don't mean to stereotype people but the Amish do flawless work. I mean, just look at this coop! The roof overhangs the nesting boxes, the epoxy flooring cleans up in no time, and customization options are extensive so you can get what you want. Just ask. 10 out of 10!
2) OverEZ Medium Chicken Coop for up to 10 Chickens $1,535.94
Brand OverEZ Chicken Coop
Chicken Coop Dimensions: 50.25″L x 52.5″W x 62.25″H
Material: Wood Chipboard
About this item. The beauty of this coop is really in the uniqueness of delivery, assembly, and in price. The pieces come in a block and are dropped at your location. You simply prepare your site, open the block, and assemble the coop. Assembly takes about an hour with a friend to help.
The chipboard isn't a drawback because it comes painted with waterproof paint.
Medium Chicken Coop – This chicken coop will house up to 10 chickens.
The OverEZ Medium Chicken Coop for up to 10 Chickens is able to be used inside a larger structure like a barn or pole barn or it can be freestanding outside. It comes with a screened window for fresh air, three nesting boxes, and two vents for extra light and air circulation.
Sturdy & Durable – This chicken coop is made with eco-friendly non-toxic paint on chipboard. The coop is waterproof and windproof. It will keep your chickens safe, dry, and warm.
Easy to Assemble Multipurpose Coop – This coop can also be used for other small animals and is easy to assemble with a step-by-step instruction manual.
What Do I Think? I like this coop. It is easy to set up. The price is right. The structure is solid with a 5/8-inch wall thickness. I am not a fan of pressboard or chipboard but it is very strong. If the inside were painted/sealed, this would get a better rating from me. I give it an 8 out of 10.
3) Nestera Raised Chicken Coop (up to 8 chickens) Price $899.00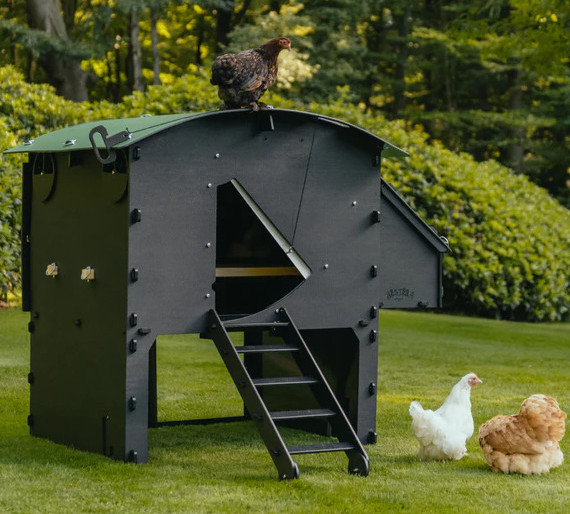 This Large Raised Chicken Coop by Nestera is made of 100% recycled plastic with a nearly zero waste process. The smooth recycled plastic makes the coop's interior and exterior easy to clean with nothing more than a quick hose down, and it dries in moments.
The coop is just over 17″ off the ground so it gives your chickens a place to shelter from the sun, wind, rain, and snow. It's also a handy spot to place your feeder and waterer.
Chicken Coop Features:
25-year manufacturers Warranty
Bird Capacity: Up to 8 standard size or 13 bantams
2 nest boxes 11″x11.8″ each
2 wooden roosts
Adjustable ventilation
The rear door is lockable, and the front door is reinforced with a rotating metal slide.
Automatic Chicken Coop Door (optional)
The modular design of this coop allows it to be taken apart and reassembled in minutes for deep cleaning. It is also UV resistant, so it won't degrade over time like other plastics.
Predator Protection is excellent with this coop. Tough 3/8-inch thick 100% recycled plastic surrounds the entire structure.
Easy-to-follow instructions are included and it usually takes about an hour to put it together.
Dimensions:
External Dimensions: Height 46.1″, Width: 54.5″ (including nest box), Depth: 31.5″ (ladder adds an additional 24.4″ to depth)
Internal Dimensions: Width: 47.6″ (including nest box) Depth: 31.5″
Shipping Information:
Ships Free! This chicken coop is flat-packed in recycled material. It does not ship to Hawaii or Alaska.
Product returns:
If your coop has been significantly damaged in shipment, please report the damages to us within 48 hours of arrival if possible. We ask that you send pictures of the damage so we can best determine the following steps to be taken.
Returns are 100% covered within 30 days of receipt for unassembled coops, and a free return label will be provided. This coop has been designed and manufactured in the U.K.
What Do I Think? I love this coop for many reasons. It is easy to put together. Cleaning is done with a hose and a brush and you're done. The price is absolutely right. Add on the fact that it is such a green coop using 100% recycled plastic and this coop is a total winner. 10 out of 10!