OverEZ Medium Chicken Coop for up to 10 Chickens
Manufacturer: OverEZ Chicken Coop Review
Price: $1535.94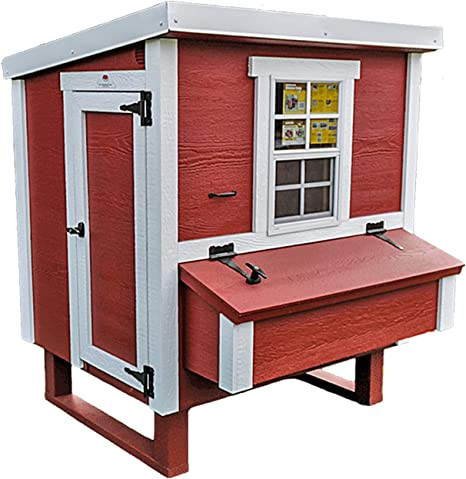 Seller: Amazon
Dimensions: 34″L x 45″W x 54.5″H
Material: Wood
Rating: 8 out of 10
The OverEz Chicken coop is a fantastic alternative to building a coop yourself. You won't have to worry about design, materials purchasing, or proper construction. With this coop, all you have to do is set it up in six easy steps, put your feed, water, and bedding in place, and you are chicken ready. This unit has all the bells and whistles that a coop should have, including:
Ease of set-up – Assembles in 60 minutes or fewer!
Sturdy – Made from real wood in the U.S.A.
Inside Amenities – 3 Nesting Boxes, 2 vents, 2 roosts, and 1 wooden ramp.
KEEPS YOUR CHICKENS WARM, SAFE AND DRY!
The Upside of This OverEz Coop
There's plenty to like about this OverEz Chicken Coop. The paint job is nice; barn red with white trim, just like in days-of-old. The style is simple, yet attractive, or at least not unattractive.
Assembly time is super short – 60 minutes, or so. The assembly instructions are very clear.
It is Raised off of the ground to prevent moisture wicking, and allows it to be moved easily.
The window is large enough to let plenty of light inside during the day. It opens (and closes) to allow for more or less circulation.
The entire coop is predator proof (with one exception) unless Sasquatch happens to live in your neighborhood.
The nesting boxes are easily accessible from the outside, and the sturdy roof is pitched away from them so that runoff doesn't pound on them. Nest box openings are facing away from the window to keep the nesting area nice and dark, just the way laying hens like it.
The Downside of The Coop
Okay, nothing's perfect…
This medium coop for up to 10 chickens is a little cramped for a big person to get into and comfortably clean. It's not undoable, it's simply a little cramped.
A vent on each side allows for flow-through ventilation. These vents are a little small, and they are plastic. To prevent a weasel from sneaking in, you will need to secure some stiff wire cloth or a piece of fencing over the vent for peace-of-mind.
Some nails can loosen during transport. You may need to do a little fix it upon arrival.
You may need to caulk a little as well.
Support
The OverEz Chicken Coop ships from Amazon. Amazon typically does a good job at shipping, with the majority of buyers being satisfied.
There is a 30-day return policy that reads as follows, "This item can be returned in its original condition for a full refund or replacement within 30 days of receipt."
Amazon has 7 days per week customer support for this item.
The Cost is in Convenience
I have been happy to complete the research of this item for you, and I am proud to say that As an Amazon Associate I earn from qualifying purchases.
This is a mid-range priced chicken coop. It's not a three-bird gerbil kennel, or a $6000.00 Bayhorse (which is a wonderful coop), it is an affordable alternative to trying to build your own coop on a budget.
The OverEz Chicken Coop comes in a large brick shaped package that can be unloaded and put together in a short afternoon with a friend, or family member. It's not the TajMahal, but it is a nice chicken coop for the money.
It is made to house chickens quickly. The cost is in the convenience.
My Advice
I give this OverEz Chicken Coop an 8 out of 10. I say this because of the solid construction, the ability to house a decent size flock, and features that make it easy to use. The designers put some thought into this unit and it shows. My advice is, if you want a solid mid-range chicken coop in a hurry, this is a good choice.
Thanks a lot for reading. Let me know if I can answer any questions for you.