If you're in the market for a sturdy and versatile chicken coop, you might want to take a look at the Betterhood Metal Chicken Coop. This coop has quickly climbed the ranks, manufactured by TOLEAD and first available on August 15, 2022. It sits at #14,774 in Patio, Lawn & Garden, and #38 in Poultry Habitat Supplies on Amazon. But what makes it stand out? Let's dig in.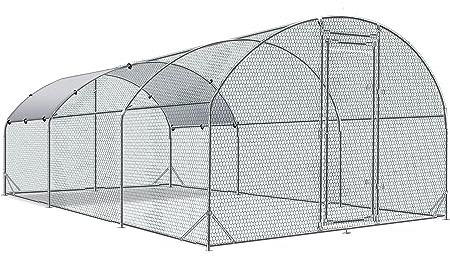 Key Features
Durable Steel Structure
One of the most striking features of this coop is its high-quality steel frame. Built to last, the coop includes additional columns and triangular supports. The steel is treated with galvanizing technology, adding an extra layer of durability. If you're looking for a coop that will stand the test of time, this one's got the bones for it.
Waterproof Cover and Coated Hexagonal Wire Mesh
The canopy is made of 240D Oxford Cloth, which is known for its water-repelling properties. This is a big plus, especially for those rainy days. The steel wire mesh ensures your chickens won't make a break for it while also maximizing ventilation. The small gaps between the meshes add an extra layer of safety, keeping predators at bay.
Easy Installation
Nobody wants to spend hours setting up a chicken coop, and thankfully, you won't have to with this one. The coop comes with straightforward and professional instructions. The manufacturer has also made improvements on pole connections, making the assembly process smoother. They even offer an installation video, which can be a lifesaver for those who are more visual learners.
Versatility
While the name says "Chicken Coop," this enclosure is a jack-of-all-trades. It's spacious enough to house not just chickens but also rabbits, ducks, cats, puppies, sheep, birds, and even land turtles.
If you have a mini-farm going on, this coop could be a versatile addition. This pen could be a great asset to your chickens, along with your incubator, brooder, chicken coop, heaters, waterers, feeders, and nesting boxes.
Customer Support
With over 10 years in the metal cage industry, Betterhood offers robust customer support. They have a 7/24 professional agent service ready to assist you with any queries or issues. Customer satisfaction is their long-term goal, which is always a good sign.
Product Details
Dimensions: The coop measures 228 x 120 x 76.8 inches, offering ample space for your flock.
ASIN: B0B9BBXHZF
Customer Reviews
The coop has received a 4.0 out of 5 stars based on 392 ratings on Amazon. While most reviews praise its durability and ease of installation, some customers have pointed out that the instructions could be clearer. It's always a good idea to check out these reviews for a well-rounded view.
Conclusion
The Betterhood Metal Chicken Coop offers a durable, versatile, and user-friendly solution for housing various small and medium-sized animals. Along with your arsenal of chicken-raising essentials, this pen makes the process easier. Its key features, like the high-quality steel frame, waterproof cover, and ease of installation, make it a strong contender in the market. Whether you're a seasoned chicken keeper or a newbie, this coop offers good value for the money.
Additional Information
If you want to purchase this coop, you can find it ===>HERE<=== on Amazon. Keep an eye out for any affiliate links or discounts that may be available.
Please leave any questions you have below:)
Dave
Chickenmethod.com